Smart Wi-Fi Night Light Projector
Smart Wi-Fi Night Light Projector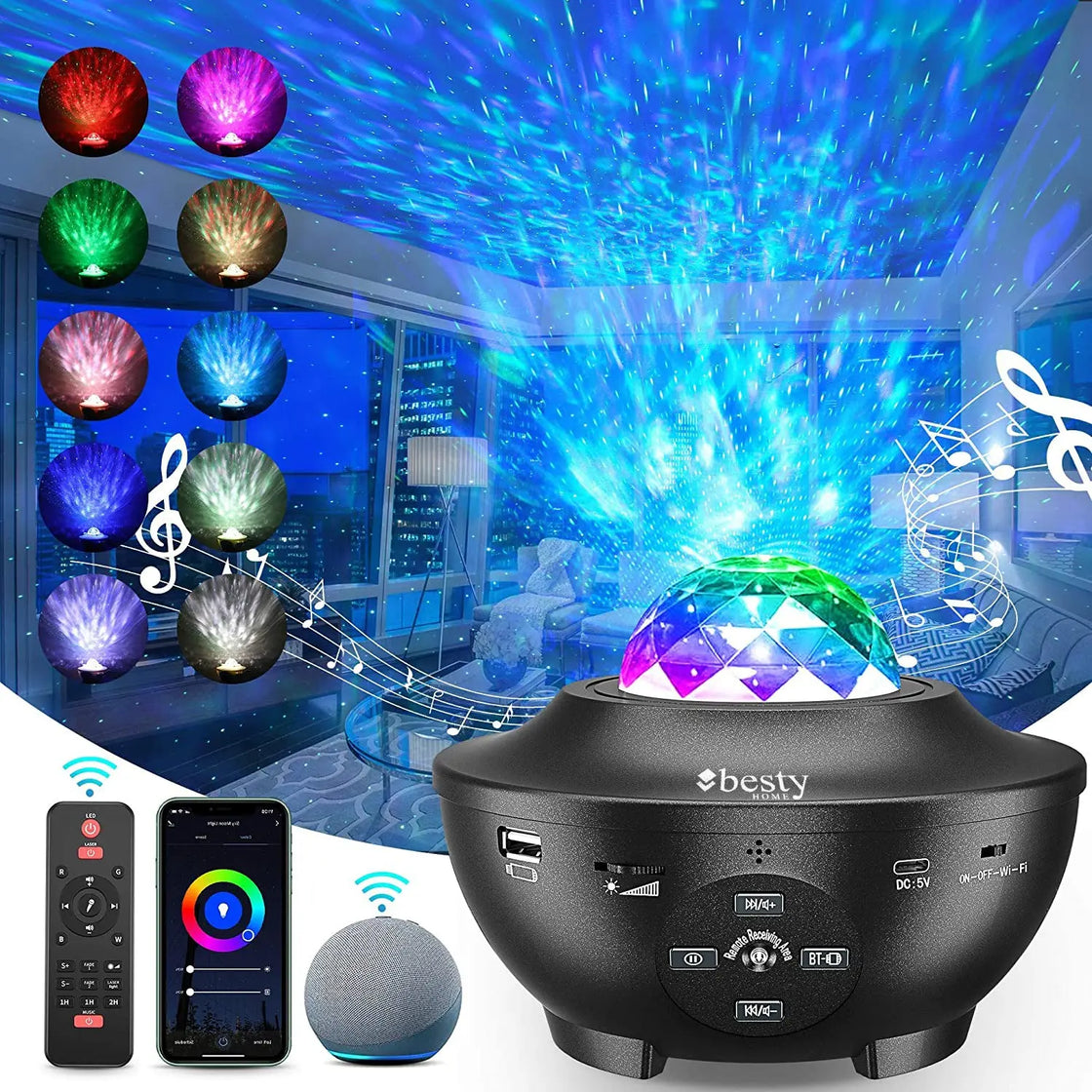 Smart Wi-Fi Night Light Projector
Description
Original Smart BESTY HOME Night Light Baby Star Projector Galaxy Sky Lite Works with Alexa, App Control, Google Assistant for Baby Kids Adults Bedroom Night Light with Bluetooth Music Speaker (Black)
Product Information
Colour                          :  Black
Light source type         :  LED
Switch type                  :  Remote
Brand                           :  BESTY HOME
Lamp type                    :  Light Emitting Diode
Product details
Package Dimensions    : ‎ 17 x 17 x 13 cm; 560 Grams
Item model number     : ‎ X001BPNUAN
Package Includes:
1 x BESTY HOME Smart Starry Galaxy Projector 2021

1 x Remote Controller(not included 2*AAA batteries)

1 x USB Cable

1 x User Manual
Specifications:
Input voltage: 110-220V
Output voltage: 5V/2000MA
Product power: 10W Power
supply mode: USB interface line power supply (mobile power, computer, mobile phone adapter)
Music mode: U disk, card reader, Bluetooth
Bluetooth number: BTK10, any mobile phone or other devices can connect to Bluetooth without password
About BESTY HOME Night Light
🌌【The Newest Smart Version Star Projector】The smart version of the starry sky projector can be used in conjunction with Alexa and Google Assistant. Just give voice commands to achieve the desired starry sky effect. NOTE: The star projector uses App and voice commands, requiring all devices to be under the same Wi-Fi network (only supports 2.4GHZ Wi-Fi network).
🌌【2021 Most Distinctive Galaxy Projector】Colourful skylight will be projected to ceiling or wall, the colored cloud light staggered rotation and Projecting high-resolution stars and cloud, Clouds float quietly under the night sky, let you and your family experience a different and interesting starry night.
🌌【Magnificent Single/Mixed Galaxy Projector】Four soothing color choices (blue/green/red/white) make up 4 single colors, 6 mixed colors, a total of 10 kinds of 360° rotating dynamic projection night light effects, creates thousands of stars with or without cloud formations, enjoy a gorgeous star lights projector show.
🌌【Smart APP/Remote Control Timing Sky Lite】There is no need to worry about turning on or off the lights for the bedroom from the bed or the sofa. APP can be more flexible timing, it will automatically close within the time you set. The starry sky projector adopts a sound activation design. The starry sky projector will make different projection effects according to the beat of your music, which is gentle and intense, creating a more romantic and active atmosphere.
🌌【Multi-function Design Night Light Projector】Bring a romantic skylight night, it can be used as a brightness-adjustable night light, Ocean wave ambiance light, stage party light, disco ball, game room decor light, home theatre accent, Strobe Lamp, Dj Lighting, you can use this planetarium projector for homeroom, dancing / parties / Birthday / DJ Bar / Karaoke / Xmas / Wedding / Show / Club / Pub.
BESTY HOME galaxy projector, offering you a smarter way to control lights.
(Doesn't support 5G WiFi.)
Note:
The star projector has a built-in 4-hour automatic shutdown timer, which will prevent the power from being too high and it will not get hot.
When it is automatically turned off, just switch it off then on manually, and the star projector will connect wifi and your phone automatically. It doesn't need to do anything else. 
Benefits of Using BESTY HOME Star Projector
Long-Range WiFi Control
Galaxy projector can change colors, brightness, multiple scene modes via the "Smart Life" app from anywhere.
The remote control distance is no longer limited! 16 Million RGB Colors to Choose, Choose your favorite colors to turn on the lighting! 
Large Coverage
Take complete control of lights via 4 ways: Smart Life app, voice assistant, IR remote, and control box.
The full-featured app provides million colors and scene modes, Timer, and more functions to get your customized wonderful lighting experience.
Timer Function
Set the light to a 1-hour timer and leave it running in the child's room and forget about it. It lulls them to sleep and gives them a light that makes them feel secure.
It also built-in 4 hours automatic shutdown timer, don't worry about forgetting to close at night.
HOW TO CONNECT

Connect the star projector with your "Smart Life" APP:
- Download App "Smart Life"
- Click the Add Device>Lighting---lighting(Wi-Fi).
And Slides the star projector button repeatedly for 3 times with the following steps: OFF-Wi-Fi-OFF-Wi-Fi-OFF-Wi-Fi, keep the host switch in "Wi-Fi" till the indicator light shows white and flashing and confirm it in the app. Then choose your home WiFi (on support 2.4GHz WiFi, not 5GHz).

How to connect the device with Alexa:
- Choose "Skill" in Alexa APP, search "Smart Life", enter your account and password that you have registered at the App. After Alexa is linked to your "Smart Life" App, you can choose "Add Device" to discover the star projector and control it.
Orders ship within 1 to 3 business days within UAE.
Hoorey ! This item ships all around UAE, Saudi Arabia, India, Oman, Bahrain, Kuwait, Egypt, Cyprus, Jordan, Lebanon, Pakistan, Sri Lanka & United Kingdom. For more shipping info check the shipping policy.